The 1993 Raleigh M Trax 400 was my first serious mountain bike.
Its 'Duo Tech' frame featured an aluminium head tube, Reynolds 501 cromoly rear triangle, with titanium top and down tubed bonded into lugs. This unconventional design made for a frameset that is lighter than it looks, with some of the benefits of titanium, and a rear triangle with a great balance between compliance and stiffness.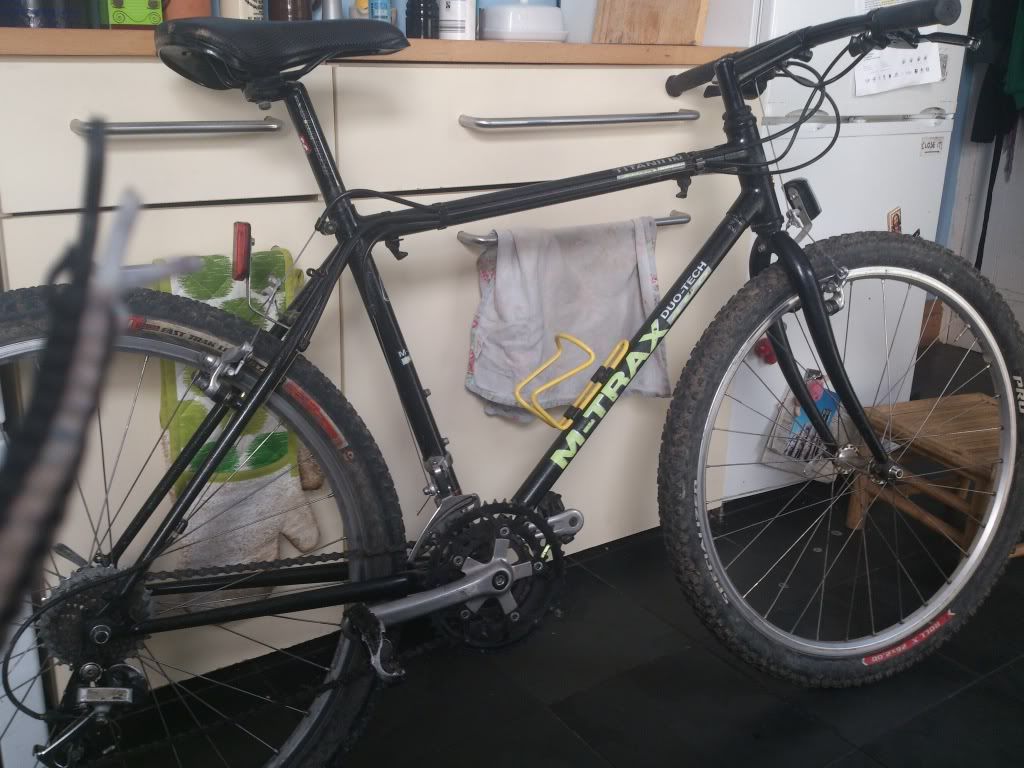 The specimen above is owned by another retrobiker (see this thread, and amazingly, it looks almost all original). Photos rarely do justice to its paintwork, which was black with coloured metallic flakes.
Below is a page from the 1993 M Trax catalogue, hosted by retrobike.co.uk.
My only regret about its appearance is that Raleigh didn't badge their M Trax range as the much cooler Dynatech instead. It's been said that Raleigh thought 'M Trax' would sound more 90s and appealing to the youth of the day than 'Dynatech'. However, as a teenager at that time, I just thought it sounded naff – perhaps among the worst named bike brands ever.
For all intents and purposes, this was a Dynatech frame with Dynatech components, with a (mostly) lower groupset than the contemporaneous Dynatechs.
I liked this bike so much, I bought two more like it, both of which I still ride regularly – my M Trax 300 and Dynatech Diablo STX.
M Trax 400 Spec List
Raleigh Special Products Division Duo Tech titanium – cromoly frame. Top tube and down tube are commercially pure titanium, while the rear triangle was Reynolds 501 cromoly steel. 19.5″ centre to top. Black with glitter.
Cromoly fork, 1-1/8″ threaded steerer. Suspension corrected for ~40-50 mm travel forks.
Dynatech steel seat post (Kalloy). 27.0 mm diameter.
Steel quill stem and steel handlebar (ripe for upgrade to aluminum!)
Shimano Altus A10 derailleurs, chainset, and 7 speed cassette.
Shimano Deore 7 speed thumbshifters.
Dia Compe SS5 brake levers.
Diacompe 986 brake cantilevers.
Wheels: Rigida Laser aluminium rims on Shimano Exage hubs.
Saddle and tires – no idea.
Upgrades made over the years
Green Control Tech bolt-up titanium skewers.
Panaracer Smoke and Dart tires, kevlar bead.
Sram Gripshift X-ray shifters.
Hope screw-on rear hub, with Sachs 8 speed cassette, built with Mavic ceramic rim.
Rockshox Quadra 21R, in judy yellow.