For those who've already seen my Rourke 853 build, I've felt the need to swap out the slightly long Salsa stem for something a bit shorter and more comfortable for my poor back … being tall is not always as good as you'd expect.
During a trip to my local bike shop, I picked up what appears to be a cheap Aluminium and carbon ahead stem from a Taiwanese manufacturer I had never heard of before: Karbona. Quite why I did this, when known-branded stems were available for a similar price, I do not know. Below is an image of the KTB-19 stem, taken from the Karbona webpage.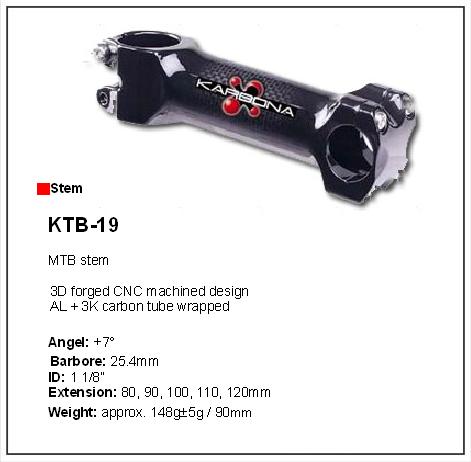 I'm not quite sure what to make of "3D forged CNC machined design, AL + 3K carbon tube wrapped". I can only guess this a combination of forged aluminium to make the main body of the stem, with some CNC machining to finish some detail, then with carbon added on to the main tube of the stem.
My hope is that the use of some carbon will result in extra damping of some trail buzz. However, I have a sneaking suspicion that vibrations transmitted up to the stem through the steerer tube will bypass the carbon section, by passing through the aluminium under the carbon wrap.
In terms of cosmetics, the finish looks OK when new, but not quite up to the offerings of some top brands. Once home and starting to be fitted to the bike, I noticed the paint flakes off very easily. Moreover, this 1-1/8″ stem is a very very tight fit on the steerer tube, which caused a bit of a headache when the time came to put the top cap on and tension the threadless headset. I can only guess that the designers failed to account for the thickness of the paint. If Karbona ever bothered to test whether this stem actually fits the intended steerer diameter, they would have noticed this. This lack of attention to detail doesn't bode well, and I feel this stem will merely be a placeholder until I manage to find something that inspires more confidence (preferably another, shorter, steel Salsa).
But now the only thing left to do is to try the stem out on a real off road ride, and if the weather permits, that's exactly what I plan to do this weekend. So watch this space!